Sustainability Development Structures
In order to drive the 15 goals of the sustainable development able to achieve the goal in 2030, which cover economic, social and environmental. The company was integrating sustainability performance into management structure, as follows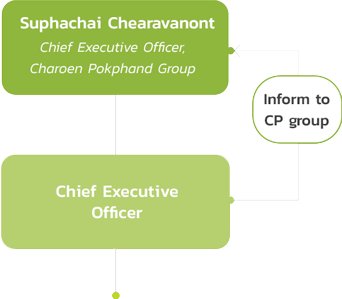 Governance, Risk Management & Compliance Committee
Roles and responsibilities
Consider and scrutinize policies and guidelines for governance, risk management and compliance with the rules of business group Establish strategies and guidelines for the management of governance, risk and compliance with business group rules. They can assess, monitor and control the risks to an appropriate level. Supporting the working group on personnel, budget, necessary resources in line with their responsibilities. Report to the Corporate Governance Committee. Risk monitoring and compliance with the rules of business regularly about the risk management of the business group Including things that need to be improved
Sustainability Management Committee.
Roles and responsibilities
Participate in determining directions, making decisions, giving information, opinions and suggestions and coordinate with those involved in the business group In the process of developing sustainability strategy Collaborate with the Sustainability Management, Governance and Corporate Communications Office Charoen Pokphand Group In bringing the strategy to practice, monitoring and measuring performance And prepare the annual sustainability report of the Charoen Pokphand Group Jointly report ideas, operational guidelines, and the performance of the Charoen Pokphand Group.
CPTG & CPP Group's Policies & Guidelines set objectives, define roles and responsibilities as well as address compliance with laws and regulations for all our directors and employees to uphold alongside with CPTG &CPP Group's Code of Conduct.
The Code of Conduct ensures that all our employees engage in ethical business conduct, are responsible to and respect the rights of stakeholders, as well as improve upon or lessen negative impacts on the environment while being united in thinking and acting in the same way and sharing the same core values of integrity and honesty.

In order to drive supply chain management and sustainable business growth, which reflects responsibility to the community, society and environment, our business partners are required to adhere to the Company's Supplier Code of Conduct.